Early Success
Towards the 90s, women were more attracted to "glamorous" skincare brands, leaving Melissa with little choice but to adhere to her their demands. So she started off using products from a German skincare brand, but not long after, the products began to show signs of ineffectiveness when clients started to complain.
"I was worried and felt that I should be responsible in doing the right things for the benefit of my customers." – Melissa
Melissa knew that she had to look for a new brand of products to expand her business options, as her success would greatly depend on it.
In 1989, Melissa became the first exclusive distributor in Malaysia for Dermologica products, an American skincare brand with well equipped R&D and education capabilities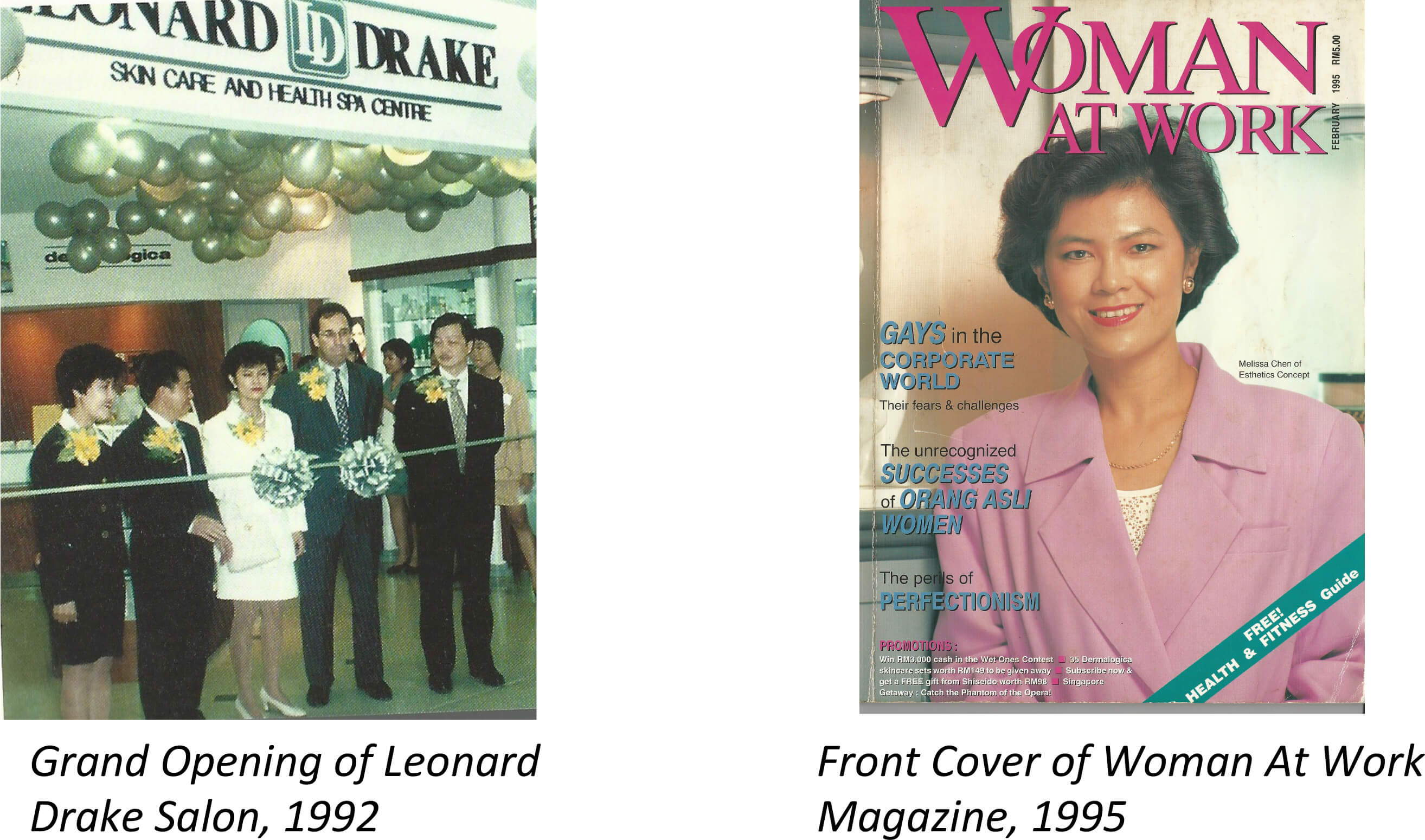 In 1992, Melissa opened the very first Leonard Drake centre in Malaysia, which was the start of her successful skincare empire. Three years later she was the owner of the two Head to Toe and six Leonard Drake skincare centres. Melissa was even featured on Woman At Work Magazine 1995, Malaysia's leading magazine for women entrepreneurs at the time.
Melissa remained humble and was eager to learn more to enhance her skills. As such, she enrolled in the post-graduate courses by the International Dermal Institute in Los Angeles, where she graduated as an internationally accredited beauty therapist. Furthermore, Melissa also completed numerous skincare extension certification courses at the proudly recognized University of California Los Angeles (UCLA).

Overwhelmed with her newfound knowledge, Melissa sat out on a personal mission to find a solution to various skin problems suffered by Malaysians, particularly acne and pimples.
"I wanted to customize treatments for local customer's lifestyle and I'm proud to say that I was able to solve, or at least control major acne problems of my clients." – Melissa
Melissa immediately became renown for solving the most severe of acne skin problems that many other beauty providers fail to treat. Credits to her acne extraction technique, which was a skill she personally took years to master herself. Many of her clients were also very appreciative of her generosity to advise each and every one of them on what was right for their skin.
"My goal is to educate people on how to get the right type of skincare and the right type of treatment suitable for their skin" – Melissa
In 2000, Melissa started one of the first advanced beauty therapy post-education program in Malaysia, an affiliation to the International Dermal Institute of US. She did so with to raise the standards of beauty therapists in the country by equipping them with the knowledge and skills to better treat clients with problematic skin.
By 2002, success was inevitable, as Melissa expanded her business into 20 operating salons in Klang Valley and was featured on New Straits Times as "Self-Made Chen."